Auction! Friday, November 8
6:00, Warwick Town Hall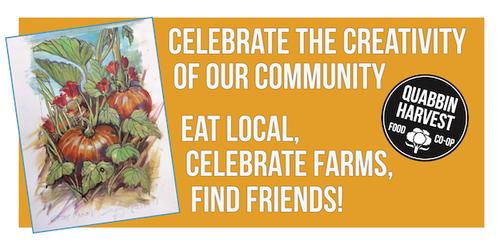 2019 Auction Update
We're really getting excited about our second annual fundraising auction! Here's the latest news:
The all-but-final catalog can be viewed here.
Generous co-op members and friends have donated lots of enticing items so far, including:

The exquisite pottery tea set (valued at $300) by Lydia Grey of Orange
Maple syrup from Sugarbush Farm in Wendell
An original watercolor of a subject of your choice by Laura Wolfe (pet portrait, maybe?)
A cooking lesson and meal preparation session with our own Nalini Goordial of Nalini's Kitchen
A set of tires from Pete's Tire Barn in Orange
Compost from Clear View Compost in Orange
A framed print of one of Susan Marshall's stunning new mural panels for the outside of the store (see box at the bottom of this message)
And a number of beautiful handmade items from our skilled and crafty members, including a handwoven basket by Natasha Hanna, a pair of handknit socks, and a knit shawl by Julie Davis (who somehow has time to knit despite being so busy keeping the store running!)

We'll be kicking off the event early with some mini-auctions (the silent variety) in the store. Watch for those coming next week!
Michael Humphries, auctioneer extraordinaire and a longtime Quabbin Harvest supporter, will be at the podium for the live auction starting at 7:30 pm.
The full catalog is available here!

And you can participate in other ways too:
Volunteer to help with setup, cleanup, the silent auction, or pre-auction sorting and transporting of items.
Sign up to bring hors d'oeuvres
Join us on November 8 at the Warwick Town Hall to eat, drink, bid, and enjoy the fun! We'll kick things off with food and the silent auction at 6 pm, with the live bidding starting at 7:30.
Posted: to News on Mon, Oct 28, 2019
Updated: Tue, Nov 5, 2019