Food For All!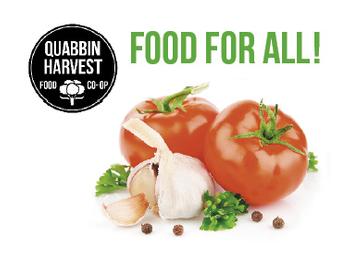 Our goal is to create a FOOD FOR ALL program at Quabbin Harvest that provides meaningful and lasting benefit to economically diverse families in the North Quabbin.

Features of a Food for All program
• Applicants who qualify for SNAP can receive a 10% discount in the store at all times for one year, with the opportunity to reapply for discount annually.
• Applicants also receive a Food For All Starter Pantry kit that includes: 1 cookbook, 1 set of Quabbin Harvest Basics recipes, reusable containers filled with healthy bulk ingredients, reusable spice containers filled with basic spices, cooking oil, vinegar, 1 large canvas tote.
• Ownership program provides lifetime equity ownership for up to 50 low-income families with full member-owner benefits.
• Free optional mentoring from Food For All Outreach Coordinator for one year.
• Access to kitchen equipment donated from community members.

Ways to Contribute
Help us make Food for All a reality by making a donation of money or kitchen equipment. Donations above $100 can be made tax deductible through our fiscal sponsor, the Cooperative Development Institute. Click here to donate through CDI's website. Please specify in the special instructions that your donation is for Quabbin Harvest Food Co-op. You can also send a check payable to CDI and mailed to Quabbin Harvest Food For All Campaign.
Donations under $100 are welcome. Checks can be made to Quabbin Harvest and sent directly to Quabbin Harvest at 12 North Main St, Orange, MA 01364.

You can also donate kitchen equipment. Stop by the store for a list of items on our wish list.

Questions? Contact Amy at bod@quabbinharvest.coop

Background
Quabbin Harvest is a small scale store that continues to find unique ways to compete with larger scale grocery stores. The Food For All program will continue this work, bringing affordable food options and lasting benefit to our region. Since 2015, Quabbin Harvest has increased affordability of high quality local food by implementing the following programs: The Healthy Incentives SNAP CSA Share; Share-a-Share Program;The Basics program; The Pre-Order program; Meat Shares; and Senior CSA Shares at the Athol Senior Center.

Food For All will expand on these existing programs and encourage people of diverse economic backgrounds to form lasting habits around healthy and seasonal eating while rooting our store more deeply in the community that it represents.

Posted: to News on Tue, May 30, 2017
Updated: Tue, May 30, 2017