Accidental Asparagus Lasagna
Asparagus season is just around the corner! This delicious recipe was developed by Quabbin Harvest member Paula Boyle. All ingredients can be purchased at Quabbin Harvest.
Accidental Asparagus Lasagna (Pasta, Wheat, and Gluten Free)
Lasagna has always been my favorite food. As a child it was a rare treat, and signified a special occasion, usually my birthday. Just thinking about Mom's classic Italian meat sauce lasagna…and I can practically smell the homemade tomato sauce from garden fresh tomatoes, and see the luscious layers of pasta with cheese oozing out of the slices.
These days I am OBSESSED with lasagna. .. in my YARD that is. Ever since I learned from Seeds of Solidarity (www.seedsofsolidarity.org) about "lasagna" no-till gardening, I have been obsessed with layering...and layering…and layering. And, do you know what? I think lasagna is luscious and delicious for the earth, too! The "new" soil smells so sweet and wonderful and it just oozes with worms and microbes !
This recipe was an accident, and a lovely one at that. The asparagus lasagna is a modification of asparagus bundles that I love to make for brunch in the spring. One bad cooking day, (yes, I have many) the bundles of asparagus were too moist, the ham would not hold, and they just fell apart. So I re-organized them, added a cheese topping and baked them. Viola! A new recipe is born: Accidental Asparagus Lasagna!
One And Two Alfredo Sauce
I always need a way to remember recipes that I use often and don't want to look up. So, I look for patterns in the recipe that makes it easy to remember. Sauces are like that for me; I make them from scratch and rarely use a recipe but always have a pattern. My Alfredo sauce is a pattern of ones and twos, so I call it One and Two Alfredo Sauce (although it could be called "Simple, Fast, Delicious!").
½ cup butter
1 teaspoon parsley flakes
1 cup heavy cream
2 garlic cloves minced
1 ½ cup shredded Parmesan cheese
Ground black pepper to taste
In a small sauce pan, melt butter, add cream, then garlic. Stir constantly over medium heat.
Once it is hot and gently bubbling, add cheese and continue stirring until melted.
Add the pepper and parsley then remove from heat.
Tip: if it gets too thick from too much heat, whisk in some warmed/hot milk until consistency is the desired thinness.
Accidental Asparagus Lasagna
20-24 medium-large asparagus spears
One 6-oz package (8 slices) of thin-sliced organic black forest ham
1 cup of One and Two Alfredo sauce
1 cup of mozzarella cheese
Preheat oven to 425 degrees.
Steam/boil the asparagus until 'al dente'. Remove and towel dry; cool slightly. Cut into regular 2 -3 inch pieces.
Cover the bottom of a small lasagna pan (11"x17") with a thin layer of Alfredo sauce (1/3 of cup).
Add a single layer of the asparagus on top. Keep the pieces lined up in four rows; this will help with serving.
Layer on four thin slices of ham to cover asparagus completely.
Repeat: Pour and spread some Alfredo on top of the ham. Add another layer of asparagus, ham and Alfredo sauce.
Sprinkle a layer of shredded mozzarella on top to make a thin crust.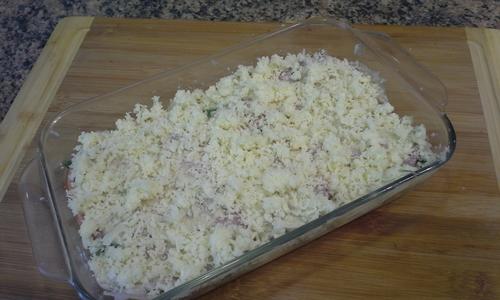 Bake (10-20 minutes) until bubbly and the cheese on top browns lightly. Remember to cut the servings where the ends of the asparagus form new rows.
Posted: to News on Sat, Apr 30, 2016
Updated: Sat, Apr 30, 2016