Mark Your Calendar!
Fifth Annual Arts & Experiences Auction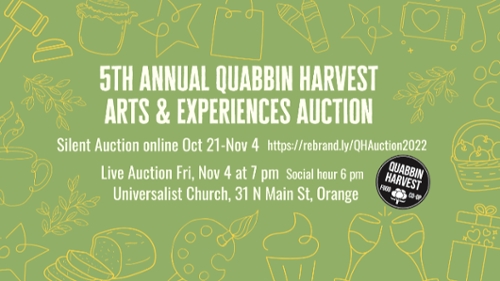 Auction catalog sneak preview
It's almost time for our fifth annual Arts & Experiences Auction, and the catalog is already full of fantastic items at all price levels. Here's just a handful:
weeknight stay in Salamander Hollow's sweet cabins in Warwick (2022 finalist for Best HipCamp Massachusetts)
custom trivia event with trivia master Mike Talarico
seed garlic and garlic-planting consultation from Seeds of Solidarity
full set of tires from Pete's Tire Barn
tour of the historic Massachusetts State House plus lunch with our own Rep. Susannah Whipps
many beautiful and unique art and craft items: baskets, pottery, soap, jewelery, paintings and photographs
and much more!
Watch for the full catalog coming soon. We'll send an email update with a link to the online version, and there will be a hard copy in the store as well as some "teaser" items that you can bid on there.

The Silent Auction will take place online starting Friday, Oct 21 and ending at 5 pm on Fri, Nov 4, which is also the start of the Live Auction at First Universalist Church across the street from our store in Orange.

The auction raises funds to support the continued operation of the store and help fill the gap between sales and expenses. But it also brings our co-op community together and reminds all of us of the talent and generosity that keep us going. And it's a ton of fun! Auctioneer Michael Humphries will be back at the podium and there will be good things to eat and drink all evening. We hope you'll join us then!
Posted: to News on Sat, Oct 8, 2022
Updated: Fri, Oct 28, 2022