We're hiring!
Join our team for 15-20 hours a week, Wed through Sat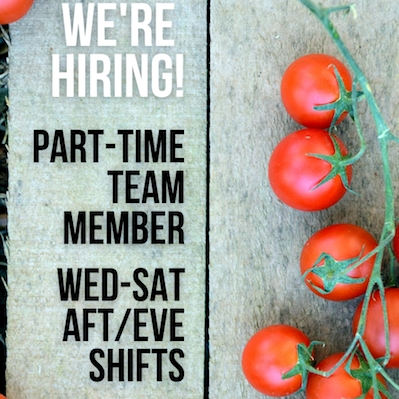 WE'RE HIRING! PART-TIME TEAM MEMBER
Are you passionate about the local food movement and building the local economy? Do you love working as part of a supportive team? Do you excel at providing customer service? Quabbin Harvest may be just the workplace for you!
Quabbin Harvest is so much more than just a grocery store. We're a community resource powered by our motivated and self-directed team members. Typical responsibilities include but aren't limited to:
Stocking shelves

Maintaining displays

Customer service

Running cash register

Ordering inventory

Receiving deliveries

Inventory management

Closing store

Food service
Currently hiring for afternoons/evenings Wednesday through Saturday.
Interested? Fill out an application in store.
Quabbin Harvest
12 North Main Street, Orange (978)544-6784
Open Monday-Friday 10am-7pm Saturday 9am-5pm
Quabbin Harvest is an Equal Opportunity Employer.
Please note that with our current facilities the bathroom is located on the second floor, accessible only by stairs.
Posted: to Recipes on Tue, Jul 13, 2021
Updated: Tue, Jul 13, 2021